Do you know how the School Management System helps schools? To begin with, the primary purpose of School ERP Software is to simplify teachers and staff work, by automating all school operations and streamlining their routine tasks.

On the negative side, the teacher is mostly involved in the assessment of a student. They mainly face a lack of security, mistakes in giving grading or marks evaluation to students after completion of the exam.

Here are some of the key features, and benefits of School Exam Management Software.
Why Choose Examination Management Software?
In fact, the education system is witnessing unparalleled growth with technology. The new technology module came into existence with a revolutionary change in the pattern and arrangements of the exam system reducing time and manual efforts.
As the conduction of the exam process is also different for all Schools, ensuring the best software embedded with awesome features will support in overall Examination Management Software.

In other words, the primary functionality of Student Management Software is to manage student exam data efficiently. Maintain security in exams with automated processes of Exam Management Software for School.
The software helps the schools to reward students with a merit system and promote them to the next standard.

One major concern on exams is it should be beneficially conducted to ensure that the deserving and right students gain maximum rewards for their academic performance and merit-based results to their hardworking.

To meet real exam standards of the education system, every school needs to implement a well-developed Examination Management System ensuring the best arrangements of exams.
Key Features of Student Academics Examination Management
Want to know how Features of Examination Management System helps schools to save time? Let have a glance below.
Create the Exam List :
Examination Management Software System helps schools for creating the exam pattern, in the best manner for the academic development of students.
Get most benefits out of students' time and efforts with hassle-free software in your schools.
Managing Exam Marks :
Every school needs proper Student Examination Management Software to get the best possible returns out of students' performance.
A well-designed Exam Management Software can also help schools in delivering the exact status of student outputs.
Alert Parents with SMS Notifications –
On the positive side, student exam results can be notified in a flash to all parents with instant SMS messages.
By all means, schools admin can now plan student's exam reports effectively and present them in an understandable and eco-friendly way to all teachers, students, and parents.
Another key point here is that it can help in quickly generating the marks reports, and sent them to parents instantly. This is coupled with the easy SMS notification feature of Examination Management System Software.
Overall Exam Management –
The perfect Exam management software for School ensures proper management of the overall examination system.
Above all, the system also ensures proper exam fees collection, creating the question paper, section-wise performance grades to presenting tabulation sheets.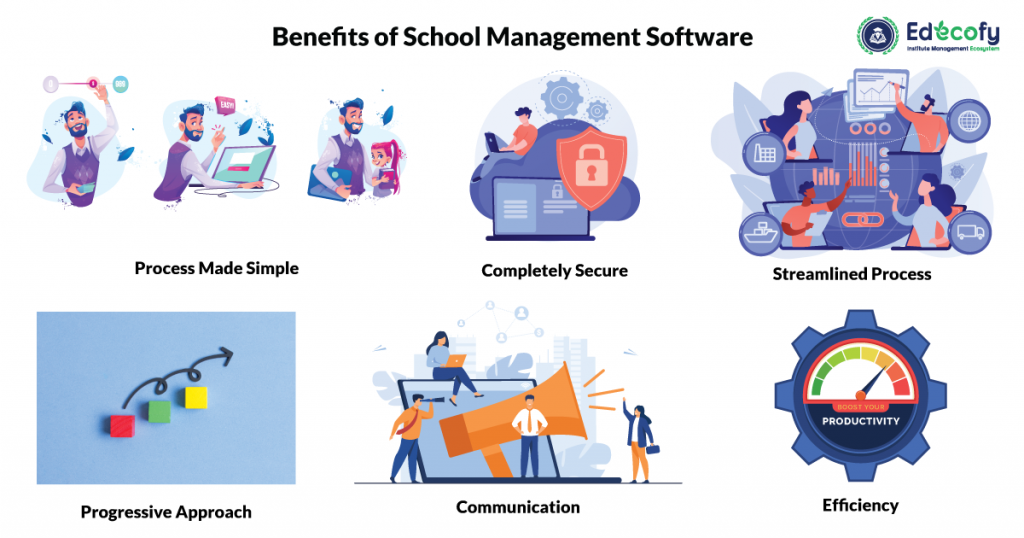 What Edecofy School Exam Management Software Offers?
Edecofy School Exam Management Software is well-designed to offer result-oriented features to the school admin, parents, and teachers.

The system also ensures overall student development, along with eliminating the tedious admin tasks.
Help schools with easy exam procedures
Ensure a progressive approach towards the trendy education system
Enhance the efficiency of schools in meeting their requirements and capabilities
Communicate the key information and advice for a good ecosystem
Help students to enjoy the maximum potential out of their performances
Gain quick merit based on the student's knowledge
Give a fully secure feature against the misuse of data
Increase the daily productivity of schools in less time and effort
Streamline school functions accurately with hassle-free online examination